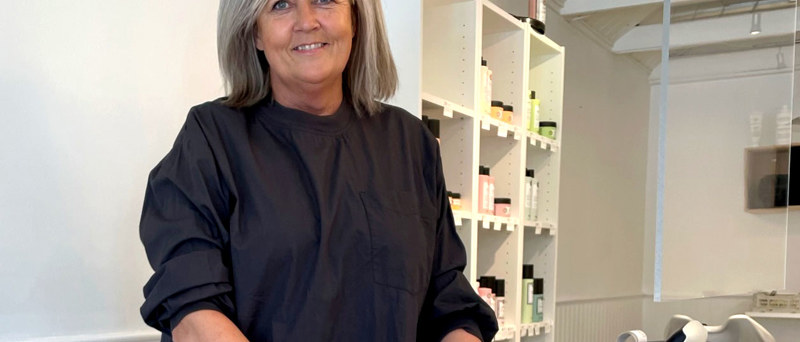 Cases | 4 min. read
The annual report is now the easiest thing in the world
The small hair salon saves both time and money with Xena and a integration with Digital Revisor
For the past 20 years, Annette Tetsche has run her hair salon "Hårdesign" in the village of Gandrup in North Jutland, Denmark. Together with her assistant, she takes care of the many regular customers' wishes for hairstyle and color.
Even though the turnover is less than 1 million DKK a year and the company has no auditing obligation, Annette Tetsche has used an auditor for all the years. It gives reassurance that someone is reviewing the numbers and approving that everything is in order and reported correctly.
Auditing was a heavy cost
But it was also an expensive cost for a small business. Annette Tetsche could easily spend 1,000 DKK at auditing services each month.
The auditor had a preferred accounting system. But it was not very digital or smart. All vouchers had to be entered manually and sent physically back and forth. The auditor took care of reporting VAT and running the payroll. It all cost money.
New auditor or a new solution?
Last year, Annette Tetsche was faced with choosing a new auditor or finding a new solution for accounting. She was recommended to EG's accounting system Xena and decided to make the switch.
"I was completely amazed at how easy it was," she says. "Now all vouchers are sent electronically to the system and stored digitally in the cloud. There is almost no manual entering."
And just in case, all the old financial information is backed up in Xena's archive, easy to be retrieved.
The integration with Digital Revisor
Shortly after the switch to Xena, there was a new integration with Digital Revisor – an online service that helps, for example, small companies to report taxes and VAT. It turned out to be the perfect combination.
Annette Tetsche and her accountant simply signed up and specified Xena as the accounting system. "Digital Revisor automatically retrieved the required numbers in a matter of seconds," relays the accountant. "It was easy to see which accounts were being mapped. And the few questions we had along the way were answered in a matter of minutes via their online chat."
The result was a complete annual report that Annette Tetsche signed with her digital signature. The report also showed which boxes at tax authorities the numbers should be entered in.
Growing and saving money
For Annette Tetsche, the switch to EG's Xena plus the integration with Digital Revisor, has meant a huge saving in time, money and effort. In the past, a lot of time was spent handling physical vouchers and typing them into an outdated system.
Now it's all done digitally in the cloud. The annual report has become one of the easiest things to do. And even after Annette Tetsche has expanded her business with online sales, it is now much easier to do accounting, payroll and reporting. In addition, she is pleased that Xena is focusing on the upcoming revised Danish accounting law, so she does not have to worry about that part herself.
---
Published