Everything you need to manage a business
EG Xena gives you all the tools you need to run your business.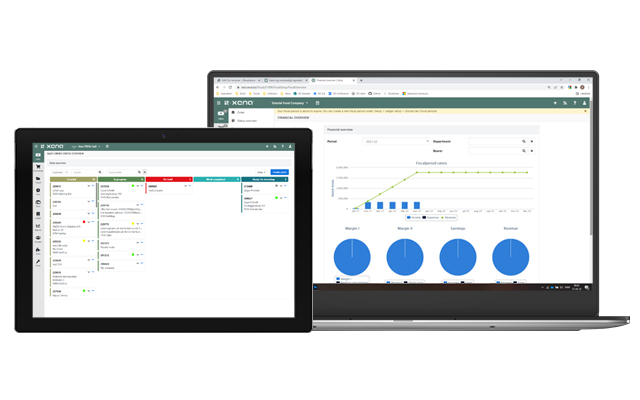 Digital bookkeeping
All-in-one accounting system and a platform to run your business.
All in one place, always up-to-date and always available
Save vouchers in the cloud and use semi-automatic posting
Transactions from the bank are retrieved automatically every day
No limitation on number of postings
Read more about the accounting functions (Danish)
Projects and planning
Better control of large tasks by grouping orders into projects.
Load calculations or add a budget directly to the project
Clear overview of the status of tasks, orders and projects
Invoices at project level on an ongoing basis, in total or on account
Plan execution and set deadlines in the calendar
Read more about project management (Danish)
Stock management
Keep track of physical articles, where they are and how many you have.
Quantity, value, reservation, goods receipt and delivery, counting and much more
Automatic reordering of goods from the supplier
Works with webshops to show stock status to customers
Pricing module
Free module for advanced management of prices, discounts, offers and promotions in multiple currencies.
Discount schemes and volume discounts for selected articles or customers
Set up price agreements in all currencies for customers and suppliers
Make campaigns for article, article groups or customer types
IT and data security
We have a strong focus on data security, e.g. with encryption, two-factor authentication, backup and certifications.
More apps and integrations
EG Xena can communicate with other systems so that everything is in one place. Find both free and paid apps and integrations in our appstore.